ecancer

medicalscience
ecancermedicalscience is an open access cancer journal focused on under-resourced communities. In order to help reduce global inequalities in cancer care and treatment, we provide free access to all articles from the point of publication and we only charge authors who have specific funding to cover publication costs.
The journal considers articles on all aspects of research relating to cancer, including molecular biology, genetics, pathophysiology, epidemiology, clinical reports, controlled trials (in particular if they are independent or publicly funded trials), health systems, cancer policy and regulatory aspects of cancer care.
African model(s) for capacity building in women's cancer care in fragile, conflict-impacted ecosystems
13 May 2021
Guest Editors: Groesbeck P Parham and Richard Sullivan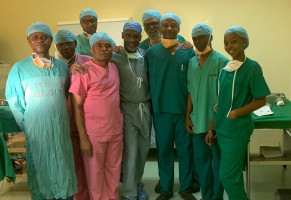 Featured Lead Authors: Ronda Henry-Tillman; Kabongo Mukuta Mathieu; Tankoy Gombo YouYou; Michael L Hicks and Groesbeck P Parham
This special issue provides a starting point for cancer research using implementation science to improve capacity building for vulnerable populations in the unique conflict ecosystems of Sub Saharan Africa.
The series features a collaboration between researchers in Zambia, the Democratic Republic of Congo (DRC), and the USA with the aim of improving outcomes in women's cancers. Topics covered include the adoption of a novel rapid radical surgical training model for early stage cervical cancer applied to the specific needs and context in the DRC, the innovative implementation of detection and treatment services for cervical and breast cancer, and a partnership with a non-profit organisation to purchase affordable basic chemotherapy.
Thanks to the Dikembe Mutombo Foundation, Friends of Africa, Inc. and the Howard G. Buffett Foundation for supporting this project.
Read the full editorial
Special Issue Articles