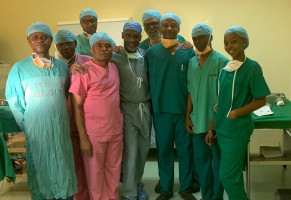 Richard Sullivan
Institute of Cancer Policy & Conflict & Health Research Group, School of Cancer Sciences, King's College London, UK
Email: richard.sullivan@kcl.ac.uk
In the era of precision cancer medicine and the domination of high income, Western biomedical orthodoxy the subjugation of voices from disciplines such as surgery and palliative care as well as countries outside the high income 'club' have been profound. This has been compounded by a failure of the development community, and here we include major overseas development funding from countries (USA, UK etc), international organisations and World Bank/IMF, to recognise cancer as a serious issue that warrants health system strengthening support. The case for surgery and specifically cancer surgery has been well made in the last decade but translating this into international and national strategies within the context of universal health coverage remains an uphill battlrade(Meara et al., 2015; Sullivan et al., 2015). The serious deficits in surgical, anaesthetic, and obstetrics (SAO) workforce do not, to paraphrase Huxley, cease to exist because they are ignored (Perera et al., 2021). It remains one of global cancer's great shames that this growing deficit in capacity and capability of SAO workforce continues unchallenged. Instead, most global cancer research remains myopically entrenched in an almost colonial strategy of laboratories, pharmaceuticals and commerce that would make the East India Company proud.
It is thus with great relief to be able to read and reflect on an exceptional series of papers, a collaboration between researchers in Zambia and DR Congo, that tackled head on this glaring lacunae in global cancer research. Their intent, admirably achieved, was to apply an implementation science approach to pelvic surgical services to improve capacity and capability in the operative management of cervical cancer in a low-income setting. The team utilised the previous development of a rapid surgical training model and then applied and adapted it to the specific needs and context in DR Congo. And this is no ordinary narrative description, rather this is the high-quality fusion of implementation and educationalist research. The process, validation, ethno-linguistic barriers and comparative learnings enabled the team to 'prove' their approach using a matrix of onsite training, targeted infrastructure investments, and continued e-learning, as well as contextually-appropriate training algorithm for cervical cancer surgical management. What this first paper demonstrates is that not only can effective models of surgical care be developed and validated at the micro (hospital) level but that this approach of research-capacity building directly leads to better quality care.

In parallel the team also utilised this opportunity to develop a parallel implementation research programme around women's cancer services in DRC, adding on access to chemotherapy in addition to surgical capacity building. In many countries the lack of radiotherapy means that the only two modalities available for treatment are surgery and chemotherapy. This work provides welcome recognition that cancer is an important and growing issue even in fragile and conflict impacted countries in Sub Saharan Africa, mirroring the experience of cancer in contemporary conflicts across the Middle East. The focus on women's cancer within this context is appropriate and rationale in light of both need and current capacity. One of the most interesting findings of this work was the illumination of just how carefully models of care need to be developed and how, so often, the devil is in the detail. In an era when resource stratified guidelines 'handed down' from august international bodies are en vogue this work actually speaks to a very different approach to better care. One which uses an entrepreneurial framework around grass roots socio-clinical change.
This creative approach was also applied to addressing the perpetual issue around the provision of chemotherapy, not a lack of guidance documents or lists, but a lack of affordable and safe drugs. The team addressed this through negotiating a partnership agreement with a non-profit organisation – African Access Initiative – to purchase authentic and affordable basic chemotherapy. This reflects the reality of many if not most resource constrained countries with a lack of a workforce trained to deliver chemotherapy, and basic regimens. Beyond the transactional aspects of this work the authors also provide welcome insight into meaning and context. As they point out there are few real-world efforts to implement detection and treatment services for cervical and breast cancer in fragile, conflict-impacted countries, with significant outbreaks of high threat infectious diseases, political unrest, and devastating poverty. This work along with studies of cancer in refugees in Uganda (Mwaka et al., 2021), the different therapeutic geographies of cancer patients in conflict zones (Yusuf, Hussain, Sultan, Badar, & Sullivan, 2020) provide a starting point for research and capacity building for vulnerable populations in the unique conflict ecosystems of SSA.
Meara, J. G., Leather, A. J., Hagander, L., Alkire, B. C., Alonso, N., Ameh, E. A., . . . Yip, W. (2015). Global Surgery 2030: Evidence and solutions for achieving health, welfare, and economic development. Surgery, 158(1), 3-6. doi:10.1016/j.surg.2015.04.011
Mwaka, A. D., Walter, F. M., Scott, S., Harries, J., Wabinga, H., & Moodley, J. (2021). Symptom appraisal, help-seeking and perceived barriers to healthcare seeking in Uganda: an exploratory study among women with potential symptoms of breast and cervical cancer. BMJ Open, 11(2), e041365. doi:10.1136/bmjopen-2020-041365
Perera, S. K., Jacob, S., Wilson, B. E., Ferlay, J., Bray, F., Sullivan, R., & Barton, M. (2021). Global demand for cancer surgery and an estimate of the optimal surgical and anaesthesia workforce between 2018 and 2040: a population-based modelling study. Lancet Oncol. doi:10.1016/s1470-2045(20)30675-6
Sullivan, R., Alatise, O. I., Anderson, B. O., Audisio, R., Autier, P., Aggarwal, A., . . . Purushotham, A. (2015). Global cancer surgery: delivering safe, affordable, and timely cancer surgery. The Lancet Oncology, 16(11), 1193-1224. Retrieved from <Go to ISI>://MEDLINE:26427363
Yusuf, M. A., Hussain, S. F., Sultan, F., Badar, F., & Sullivan, R. (2020). Cancer care in times of conflict: cross border care in Pakistan of patients from Afghanistan. ecancermedicalscience, 14, 1018. doi:10.3332/ecancer.2020.1018