ecancer

medicalscience
ecancermedicalscience es una revista médica de libre acceso (open access), enfocada a las comunidades con menos recursos. Para ayudar a reducir las desigualdades globales en la atención y tratamiento de cáncer, proporcionamos acceso gratuito a todos nuestros artículos y solo cobramos tasas a aquellos autores que cuentan con patrocinios específicos para cubrir costes de la publicación.
La revista considera artículos sobre todos los aspectos de la investigación relacionados con el cáncer, incluyendo biología molecular, genética, fisiopatología, epidemiología, casos clínicos, estudios clínicos controlados (en particular si son estudios independientes o financiados con fondos públicos), sistemas de salud, políticas públicas y los aspectos regulatorios del cáncer. Son de especial interés los artículos centrados en entornos de escasos recursos y la reducción de las desigualdades globales en la atención y el tratamiento del cáncer.
African model(s) for capacity building in women's cancer care in fragile, conflict-impacted ecosystems
13 May 2021
Guest Editors: Groesbeck P Parham and Richard Sullivan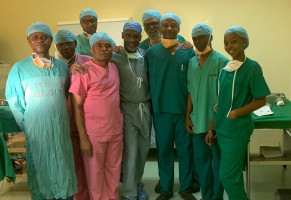 Featured Lead Authors: Ronda Henry-Tillman; Kabongo Mukuta Mathieu; Tankoy Gombo YouYou; Michael L Hicks and Groesbeck P Parham
This special issue provides a starting point for cancer research using implementation science to improve capacity building for vulnerable populations in the unique conflict ecosystems of Sub Saharan Africa.
The series features a collaboration between researchers in Zambia, the Democratic Republic of Congo (DRC), and the USA with the aim of improving outcomes in women's cancers. Topics covered include the adoption of a novel rapid radical surgical training model for early stage cervical cancer applied to the specific needs and context in the DRC, the innovative implementation of detection and treatment services for cervical and breast cancer, and a partnership with a non-profit organisation to purchase affordable basic chemotherapy.
Thanks to the Dikembe Mutombo Foundation, Friends of Africa, Inc. and the Howard G. Buffett Foundation for supporting this project.
Leer el editorial completo
Artículos de Edición Especial