ecancer

medicalscience
ecancer

medicalscience
considers articles on all aspects of research relating to cancer, including molecular biology, genetics, pathophysiology, epidemiology, clinical reports, controlled trials (in particular if they are independent or publicly funded trials), health systems, cancer policy and regulatory aspects of cancer care. Articles focused on under-resourced settings and reducing global inequalities in cancer care and treatment are of particular interest.
Locally advanced breast cancer in Latin America
Guest Editors: Henry Gomez and Fernando Valencia
This special issue aims to update the scientific community on the latest strategies to combat locally advanced breast cancer in Latin America.
Breast cancer has the highest incidence and mortality of all cancers in Latin America, and the rate is continuing to rise. There are varying levels of access to treatment including conservative surgery, radiotherapy or high cost systemic therapy between countries as well as between different regions within the same country.
The cultural, ethnic, geographic and socioeconomic diversity within the Latin American population directly affects access to screening and treatment. The six articles within this issue explore topics ranging from precision medicine to the barriers caused by the high cost of drugs, highlighting the difficulties and opportunities facing the treatment of locally advanced breast cancer in Latin America.
Read the full editorial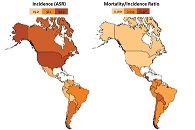 Watch Guest Editor Henry Gomez discuss the various articles in the special issue.
Special Issue Articles