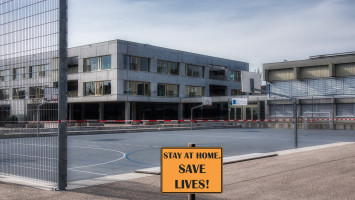 A new study on the effect of lockdowns on cancer diagnoses has found an 18.2% reduction in new cancer diagnoses and an overall 6.8% increase in Stage 4 cancers since March 2020 when compared to 2019.
The study was published in ecancermedicalscience and led by researchers at King's College London, Guy's and St Thomas' NHS Foundation Trust, the London School of Hygiene and Tropical Medicine and the Tata Memorial Cancer Centre, Mumbai. The authors studied the rate of diagnosis within the area covered by the South East London Cancer Alliance, covering a population of around two million.
From March 2020, hospitals in the UK saw a dramatic reduction in cancer patients presenting through the urgent 2-week cancer pathway and cancer screening services. There was also a significant contraction of diagnostic and treatment services, particularly endoscopy.
Professor Arnie Purushotham, who led the study, said "One of the most ignored aspects of the COVID-19 pandemic has been the impact of public health measures by governments on wider health and welfare".
The authors report that non-pharmaceutical interventions such as "stay at home" orders coupled with changes in public behaviour due to fear of hospitals and reduction in the provision of services including cancer screening and surgery have radically changed health ecosystems.
Professor Richard Sullivan, a co-author of the study, added: "These findings almost certainly reflect what is happening across the UK and globally and are a salient warning that pandemic control measures and policy need to balance all health and welfare."
"Alternative strategies need to be adopted during further waves of the current pandemic and any future pandemics to ensure that patients with cancer are prioritised for diagnosis and treatment in order to prevent late-stage presentation and an increase in avoidable deaths."