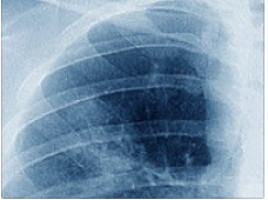 Today the European Commission has granted marketing authorisation for osimertinib as monotherapy for the 1st-line treatment of adult patients with locally-advanced or metastatic non-small cell lung cancer (NSCLC) with activating epidermal growth factor receptor (EGFR) mutations.
The approval is based on results from the Phase III FLAURA trial published in the New England Journal of Medicine.

Dr. David Planchard, Associate Professor of Medicine, Head of Thoracic Group, Gustave Roussy cancer center, France said: "The FLAURA trial is changing medical practice in the 1st-line treatment of EGFR-mutated NSCLC. The progression-free survival benefit seen in the trial is unprecedented for patients with an EGFR mutation, and this benefit was consistent across all subgroups including in patients with or without central nervous system metastases. Further, the preliminary overall survival data, while not statistically significant at the time of the interim analysis, is promising, with a 37 percent reduction in the risk of death."

The approval follows the positive opinion from the Committee for Medicinal Products for Human Use (CHMP) of the European Medicines Agency.
Safety data for osimertinib from the FLAURA, AURA3, AURA and AURA2 trials were evaluated.
Osimertinib was well tolerated, with most adverse reactions Grade 1 or 2 in severity.
In all patients, the most common adverse reactions were decreased leucocytes (68% [1.5% Grade ≥3]), decreased lymphocytes (67% [7.2% Grade ≥3]), decreased platelet count (54% [1.6% Grade ≥3]), diarrhoea (49% [1.2% Grade ≥3]), rash (47% [0.9% Grade ≥3]), decreased neutrophils (35% [4.1% Grade ≥3]), dry skin (33% [0.1% Grade ≥3]), paronychia (31% [0.3% Grade ≥3]), stomatitis (20% [0.2% Grade ≥3]), and pruritus (17% [0.1% Grade ≥3]).

In the EU, osimertinib is already indicated for the treatment of patients with locally-advanced or metastatic EGFR T790M mutation-positive NSCLC.
Today's approval follows the recent approvals of osimertinib for the 1st-line treatment of patients with metastatic EGFR-mutated (EGFRm) NSCLC in the US, Brazil and the Russian Federation.
Osimertinib is also under regulatory review in Japan for use in the 1st-line treatment setting with a decision anticipated in the second half of 2018, with other global health authority reviews and submissions ongoing.
Source: AstraZeneca