ecancer

medicalscience
ecancermedicalscience is an open access cancer journal focused on under-resourced communities. In order to help reduce global inequalities in cancer care and treatment, we provide free access to all articles from the point of publication and we only charge authors who have specific funding to cover publication costs.
The journal considers articles on all aspects of research relating to cancer, including molecular biology, genetics, pathophysiology, epidemiology, clinical reports, controlled trials (in particular if they are independent or publicly funded trials), health systems, cancer policy and regulatory aspects of cancer care.
Cancer Survivorship – where are we now?
12 Dec 2019
Guest editor: Deborah Fenlon
At a time when care is focused more and more on the acute part of the cancer experience, how do health services and health professionals adjust their care provision to support people with cancer as a chronic illness? This special issue features research that considers some of the ways in which we are beginning to support people to deal with the consequences of cancer care and treatment.
The ten articles explore topics such as concerns people have about the fear of cancer returning, the profound disruption that people with head and neck cancer may experience after surgery, laser therapy for vulvo-vaginal atrophy and how to set up a successful and comprehensive survivorship programme.
Read the full editorial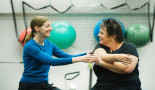 Watch Guest Editor Prof Deborah Fenlon discuss the topics included in this special issue.
Special Issue Articles