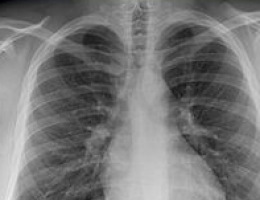 The US Food and Drug Administration has approved gefitib for the treatment of patients with metastatic non-small cell lung cancer (NSCLC) whose tumours have epidermal growth factor receptor (EGFR) exon 19 deletions or exon 21 (L858R) substitution mutations as detected by an FDA-approved test.
This approval of gefitinib is being approved concurrently with a labelling expansion of the therascreen EGFR RGQ PCR Kit, a companion diagnostic test for patient selection.
The approval of gefitinib was based on the results of a multicentre, single-arm, open-label clinical study of a total of 106 treatment naïve-patients with metastatic EGFR mutation positive NSCLC who received gefitinib at a dose of 250 mg daily until disease progression or intolerable toxicity.
The major efficacy outcome was objective response rate (ORR) according to RECIST v1.1 as evaluated by both a Blinded Independent Central Review (BICR) and investigators.
The BICR ORR was 50% (95% CI: 41, 59) with a median duration of response (DoR) of 6.0 months.
Investigator-determined ORR was 70% (95% CI: 61, 78) with a median DoR of 8.3 months.

Efficacy results were supported by an exploratory analysis of a subset of a randomised, multicentre, open-label trial conducted in patients with metastatic adenocarcinoma histology NSCLC receiving first-line treatment.
Patients were randomised (1:1) to receive gefitinib 250 mg once daily or up to 6 cycles of carboplatin/paclitaxel.
The efficacy outcomes included progression-free survival (PFS) and ORR as assessed by the BICR.
The subset population consisted of 186 of 1217 patients (15%) determined to be EGFR positive and had radiographic scans available for a retrospective assessment by a BICR.
In this subset, there were 88 gefitinib-treated patients and 98 carboplatin/paclitaxel-treated patients.
The hazard ratio for PFS in the gefitinib-treated arm was 0.54 (95% CI: 0.38, 0.79) with a median PFS of 10.9 months for the gefitinib-treated patients and 7.4 months for the carboplatin/paclitaxel-treated patients as assessed by BICR.
In addition, the BICR ORR was 67% (95% CI: 56, 77) with a DoR of 9.6 months for gefitinib-treated patients and 41% (95% CI: 31, 51) with a DoR of 5.5 months for carboplatin/paclitaxel-treated patients.

Safety data was evaluated for common adverse reactions in a double-blind placebo- controlled trial of 1692 patients.
Of the 1129 patients who received gefitinib, the most common (greater than or equal to 20%) adverse reactions in order of decreasing frequency were skin reactions, aspartate aminotransferase (AST) increased, alanine aminotransferase (ALT) increased, proteinuria, and diarrhoea.
The most common (greater than or equal to 2%) grade 3-4 adverse reactions were proteinuria, diarrhoea, ALT increased, decreased appetite, AST increased, and skin reactions.
Approximately 5% of gefitinib-treated patients discontinued treatment due to an adverse reaction.

Serious and uncommon adverse drug reactions were evaluated in 2462 patients with NSCLC who received gefitinib monotherapy in three randomised clinical studies.
Significant adverse reactions were interstitial lung disease, which occurred in 1.3% of patients, fatal hepatotoxicity which occurred in 0.04% of patients, and grade 3 ocular disorders which occurred in 0.1% of patients.

The recommended dose of gefitinib is 250 mg orally once daily with or without food.
Treatment should continue until disease progression or unacceptable toxicity.

Full prescribing information is available at: http://www.accessdata.fda.gov/drugsatfda_docs/label/2015/206995s000lbl.pdf
Source: FDA