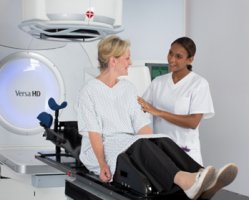 Namibian cancer patients requiring specialised radiation therapy will no longer have to travel to South Africa for their treatment, with the opening of the new Namibian Oncology Centre equipped with the country's first Elekta digital linear accelerator.

The private Namibian Oncology Centre is set to open in Windhoek later this year.
Built and equipped with funding from Spitz Healthcare Investments, the centre will have chemotherapy, laboratory, pharmacy and in-patient facilities as well as the first digital linear accelerator radiation treatment in Namibia.
The centre's radiation unit, with the capacity to treat up to 50 patients a day, will bring to Namibia highly specialised treatment not previously available in the country.
The only other radiation treatment available in Namibia is at the state hospital in Windhoek, which uses an older, cobalt radiation unit.
The new linear accelerator offers a wider scope of treatment protocols utilising multiple energies capable of addressing a large variety of cancers.

A team of specialists, including oncologists, radiation therapists, nurses and support staff, is now in place to man the new centre.
One of the team's oncologists, Dr Elré van Heerden, notes that the benefits of the new unit will extend to patients beyond Namibia's borders, as a number of private patients from Angola are also expected to seek treatment at the facility.
She explains how the ultra-conformal field shaping with a fully integrated multileaf collimator allows for highly targeted radiation.
Higher energies are important in the case of deep tumours or large patients.
"This equipment allows for highly targeted radiation treatment with limited damage to healthy tissue. This is crucial in curative treatment in particular, because with the ability to cure more patients, we need to ensure the treatment has as little long term impact on healthy tissue as possible" said Dr van Heerden.
Martin Noordman, service partner manager for Sub-Saharan Africa at Elekta South Africa, commented "the arrival of the linear accelerator in Namibia could ease the burden on the state's oncology facility through a possible public-private partnership in future, as well as delivering a number of benefits to private patients who previously might have had to travel to major centres in South Africa for specialised treatment."
"Typical cancer treatments would entail daily treatments for six weeks. Thus travelling thousands of kilometres to another country for treatment entails significant cost and disruption for patients, but crucially – it also separates them from their emotional support base at home at a time when they need it the most."
Dr van Heerden adds that many patients being treated for symptoms may also be too sick to travel long distances for treatment.
Source: Elekta