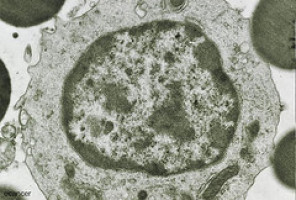 A randomised phase III study resolves long-standing questions about the optimal timing of neck lymph node surgery for patients with early-stage oral cancer.
It shows that a preventive approach, known as elective neck dissection (END), both improves survival and lowers recurrence rates compared to therapeutic neck dissection (TND) performed at the time of nodal occurrence.
Oral cancer affects more than 300,000 people worldwide and is especially common in parts of the world where tobacco use is high.
Tobacco use and excessive alcohol consumption are estimated to account for 90% of oral cancer diagnoses.
While early oral cancer is often cured with surgery to remove the tumour, it can come back and spread to lymph nodes in the neck.
Physicians have long debated whether removing surrounding lymph nodes is essential at the time of the primary oral cancer surgery (END) or if it is optimal to wait until a patient has relapsed (TND).
"Our study is the first to conclusively prove that more lives can be saved with elective neck dissection. This answers a question doctors have been asking for over 50 years, for the treatment of thousands of patients," said lead study author Anil D'Cruz, MBBS, MS, FRCS, Professor and Chief, Department of Head and Neck Surgery at Tata Memorial Centre in Mumbai, India.
"Armed with the results of this study, doctors will be able to confidently counsel patients that adding neck surgery to their initial treatment is worthwhile."
In this trial, conducted at Tata Memorial Centre between 2004 and 2014, 596 patients with early stage oral squamous cancer were randomly assigned to END or TND.
An interim analysis of the first 500 patients showed that END resulted in a 37% reduction in risk of death compared to TND.
END was associated with a 12.5% absolute increase in three-year overall survival (80% vs. 67.5%), which was statistically significant.
END also resulted in a 56% reduction in the risk of relapse or death with a large 23.6% absolute increase in three-year disease-free survival (69.5% vs. 45.9%).
In essence, there were eight fewer deaths for every 15 fewer relapses with elective neck dissection, firmly establishing it as the standard of care in this disease.

According to the authors, the only downside of neck dissection – a procedure which involves the removal of lymph nodes in the neck – is that it may be associated with some degree of shoulder dysfunction, affecting 5-40% of patients.
This is because the nerve that supplies the large muscles associated with shoulder movement traverses the field of surgical dissection.
Future research should focus on techniques that could minimise this complication.
As there have been no strong clinical practice recommendations advocating neck dissection with early oral cancers to date, there has been gross variability in practice the world over.
This study conclusively shows that elective neck dissection should be the standard of care for patients with early oral cancer.
Source: ASCO
Watch the press conference or interview for more