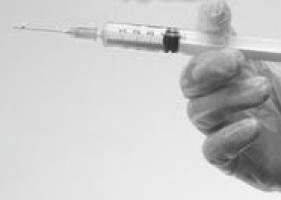 by ecancer reporter Janet Fricker
The poster session 'Melanoma and other skin tumours', held at ESMO 2014 in Madrid, highlighted the emerging field of intralesional injections for cutaneous melanoma leading to tumour regression not only in the injected lesions, but also in 'bystander' lesions suggesting that the strategy is augmenting immune response.
Cutaneous melanoma represents a persistent morbidity, including disfigurement accompanied by pain, ulceration, bleeding and infection.
Despite locoregional therapies, such as surgery and radiation, a significant percentage of patients have locally advanced disease at high risk for recurrence, progression and metastasis.
Now a number of new approaches are exploring intralesional injections of oncolytic viral immunotherapy and dyes to eliminate patient symptoms and prevent progression to stage 4 disease.
First, poster 1102P reported on an extension of the phase 3 OPTiM study in patients with unresected Stage IIIB-IV melanoma treated with Talimogene laherparepvec (T-VEC), a herpes simplex virus type 1-derived investigational oncolytic immunotherapy¹.
Earlier, at ASCO 2014 the investigators had shown that median overall survival was 23.3 months for the T-VEC arm compared to 18.9 months in the granulocyte macrophage colony-stimulating factor (GM-CSF) arm (HR 0.79, P=0.051).
Extension treatment was made available to patients who did not have clinically relevant progressive disease or who had experienced a complete response and then developed a new lesion within 12 months from the end of last treatment.
Altogether 31patients were enrolled into the extension trial, including three from the GM-CSF arm and 28 from the T-VEC arm who continued on randomised treatment for up to 12 months.
Results showed the best overall responses improved in seven patients in the T-VEC arm, with five patients who had a partial response in the main trial and two patients who had stable disease in the main trial achieving complete responses.
The adverse events reported were grade 1 or 2 in severity and did not lead to discontinuation.
"We were able to show that in some patients whose disease had returned we could get them back into remission by re challenging them with the agent. We also showed that T-VEC was very tolerable with no additional toxicity burdens for reinjection," explained Kevin Harrington, study author from the Institute of Cancer Research, London.
Next poster 1103P, which received a best poster award, presented information on the CALM study exploring intralesional injections with a different virus, this time Coxsackievirus (CVA) A21, a naturally occurring 'common cold' intracellular adhesion molecules1 (ICAM1) targeted RNA virus.
In animal models, it has been shown that CVA21 lysed tumour cells induce a secondary systemic host-generated anti-tumour immune response.
Results of the phase 2 study showed that 22 out of 57 of stage IIIC and IV melanoma patients (38.6%) met the primary endpoint of immune-related progression free survival (irPFS) at six months.
The secondary endpoint of objective response rate (complete response partial response, according to irRECIST 1.1) was 28.1%.
Finally, poster 1120P provided the latest analysis of a phase 2 study evaluating intralesional injection of PV-10, a 10% solution of the dye Rose Bengal, in 80 patients with stage IIIB-IV melanoma².
The rationale for PV-10 is that the agent has a local chemo ablative effect where it enters lysosomes causing local necrosis, and then in some patients a systemic effect believed to be immunologically mediated.
Following injection previous studies have demonstrated increased CD8 , CD4 , CD3 and NKT in peripheral blood.
For the subgroup of 28 patients who had all their lesions injected with PV-10 (i.e. had no uninjected lesions), the poster showed the overall response rate was 71% (CI 51-87%) with 50% achieving a complete response (CI 31-69%).
The abstract furthermore showed marked differences in progression free survival according to number of lesions injected.
The 28 patients who had all their lesions injected showed a progression free survival of 9.8 months compared to six months for the seven patients who had a median of five untreated lesions.
"The progression free survival of 9.8 months compares favourably with historical progression free survivals of less than 2.5 months for DTIC/TMZ, "said Sanjiv Agarwala, the first author from St. Luke's Hospital and Health Network, Bethlehem, Pennsylvania.
Such data he added, suggests PV-10 will deliver significant progression free survival effects in the phase 3 study, due to start Q4 2014.
"The abstract also shows us that we're likely to get the highest responses when all lesions are injected."
Additional data showed that for the 232 lesions that achieved a complete response 121 required a single injection, 84 required two injections, 22 required three injections and five required four injections.
"The few injections needed in this study bode well for patient compliance with PV-10-treatment," said Eric Wachter, Chief Technology Officer of Provectus.
References
1. J Nemunaitis, R Andtbacka, M Ross, et al. Results of the extension trial of OPTiM, a multicenter, randomized Phase 3 Trial of Talimogene Laherparepvec (T-VEC) vs GM-CSF for Unresected Stage IIIB-IV Melanoma. Abstract no 1102P.
2. R Andtbacka, B Curti, H Kaufman, et al. CALM study: Secondary endpoints of a Phase II study of a novel oncolytic immunotherapeutic agent, Coxsackievirus A21, delivered intratumorally in patients with advanced malignant melanoma.
3. S Agarwala, J Thompson, B Smithers, et al. Subgroup Efficacy in Patients receiving intralesional Rose Bengal to all existing melanoma in Phase II study PV-10-MM-02. Abstract no 1120P ESMO 2014.