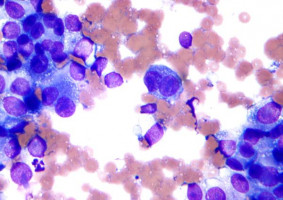 Combination therapy with both BRAF inhibitor vemurafenib and MEK inhibitor cobimetinib achieves greater progression-free survival and response rates than vemurafenib plus placebo in BRAF-mutation positive melanoma, according to phase III data presented at the ESMO 2014 Congress in Madrid, Spain.
"Before the results of this study, we knew that cobimetinib plus vemurafenib could be safely delivered together with highly promising rates of tumour shrinkage; however until the performance of a scientifically rigorous randomised trial the potential magnitude of this benefit could not be measured," says lead author Dr Grant McArthur, head of the Cancer Therapeutics Programme at the Peter MacCallum Cancer Centre, Melbourne, Australia.
The ongoing CoBRIM study enrolled 495 treatment-naive patients with BRAFV600-mutation-positive unresectable locally advanced or metastatic melanoma.
Patients were randomised to received a 28-day treatment cycle of vemurafenib (960 mg, twice daily), and either cobimetinib or placebo (60 mg daily from days 1-21), with a primary end-point of progression-free survival.
Patients in the combination arm of the study showed a significantly improved median progression-free survival of 9.9 months, compared to 6.2 months in the placebo arm, and a 49% reduction in the risk of progression.
Researchers observed a response rate of 68% in the combination arm and 45% in the control arm, including a complete response in 10% of patients treated with combination therapy compared to 4% of patients treated with vemurafenib alone.
"This study is very important as it shows that using drugs together to turn off two individual proteins (BRAF and MEK), that interact and bind to each other in the cell, gives much improved results for patients. This is fundamental concept that could have far reaching consequences for how we treat many cancers," says McArthur.
Combination therapy did lead to a greater number of grade 3 and above adverse events compared to vemurafenib alone, but treatment with cobimetinib plus vemurafenib also seemed to reduce the incidence of skin-related side-effects known to occur with vemurafenib.
In summary, McArthur says, "We anticipate that the combination of a BRAF and MEK inhibitor will become a new standard treatment for advanced BRAF-mutant melanoma. The data lay the foundation for the addition of treatments either in sequence or in further combination to obtain even better results."
Source: ESMO