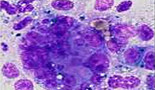 A common osteoporosis drug can shield women against the loss of bone mineral density – a side effect of the drug anastrozole which is taken to prevent breast cancer in the IBIS-2 study – according to new data presented today at the San Antonio Breast Cancer Symposium.
The data being presented are from the IBIS-2 Bone Sub Study. IBIS-2 is a breast cancer prevention trial looking to see if the drug anastrozole can prevent breast cancer in women at high risk of the disease. The bone sub study has been designed to examine the effects of anastrozole on bone mineral density and whether the extra risk of developing osteoporosis or fractures among women taking part in IBIS-2 can be reduced or even eliminated.
Early results showed that after one year on the trial those women taking a type of osteoporosis drug called bisphosphonate2 had increased bone mineral density. This increase is despite the women starting the trial with low bone mineral density and being at higher risk of osteoporosis.
Anastrozole is currently only used as a treatment for breast cancer and the only women in the UK using the drug for prevention are those taking part in the IBIS-2 trial. Anastrozole works by blocking the production of oestrogen. By reducing the levels of oestrogen in the body the researchers are hoping to stop those breast cancers that rely on oestrogen from growing. It is also this reduced level of oestrogen that can reduce bone mineral density.
Dr Shalini Singh, who leads the bone sub study and presented the data, said: "Research into the effect that anastrozole has on women's bones and to extent to which a bisphosphonate can help counter this continues. These preliminary, one year data are encouraging though and we look forward to the three year results to see if this effect is maintained."