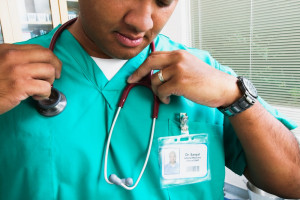 Rutherford Health plc has issued the following statement in view of the announcement that all workers in the independent sector are considered key workers, enabling the sector to support the NHS in dealing with the Coronavirus (COVID-19) pandemic.
Rutherford Health has written to NHS Trusts in England and Wales outlining services the network of Rutherford Cancer Centres is in a position to provide.
Our UK network of Rutherford Cancer Centres are located in Newport, South Wales, Bedlington, Northumberland and Reading, Berkshire.
Rutherford Cancer Centres can provide services including chemotherapy, immunotherapy, radiotherapy and high energy proton beam therapy, as well as a range of diagnostic imaging services.
Mike Moran, CEO of Rutherford Health plc, said: "Guidance issued by the NHS anticipates that cancer services may be disrupted during the pandemic and that clinicians may need to prioritise treatment for those most in need. Rutherford Health will do everything possible to support the NHS in maintaining cancer services and avoiding any disruption."
"Rutherford Cancer Centres are independent of NHS hospital sites and this may help reduce the risk of infection. We understand that cancer patients can have weaker immune systems, so we take care managing appointment/treatment times to minimise risk and contact between patients. Rutherford Health is fully committed to playing its part in providing capacity for cancer services to help the NHS during these difficult times and will continue to ensure we navigate these challenging circumstances with everyone's health and well-being in mind" added Moran.
"We welcome the government announcement that frontline health care staff are classed as key workers and this will help enable them to send their children to school and continue working on behalf of patients. As the issues associated with COVID-19 develop, our number one priority is the health and safety of our patients, colleagues and partners. We are committed to following all Department of Health and Social Care guidance and ensuring the strict code of hygiene and other appropriate measures are in place in all Rutherford Cancer Centres across the UK. We are enhancing the frequency of our deep cleaning and hand washing and ensuring that all our team members are following all appropriate protocols to protect the health of our patients and colleagues," concluded Moran.
Source: Rutherford Cancer Centres