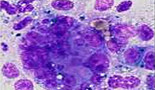 Breast cancer is on the rise in developing countries and mortality is high. Now, a consensus review of cancer experts worldwide, published in this month's issue of The Lancet Oncology, has identified the biggest challenges to diagnosing and treating breast cancer in low-income and middle-income countries (LMCs) and proposed resource-appropriate solutions to improve outcomes. In low-income countries there is little awareness that breast cancer is treatable, inadequate pathology services for diagnosis and staging, and poor treatment availability, especially for radiotherapy and drug treatments that are necessary for decreasing breast cancer mortality.
In middle-resource countries, the main challenges are late-stage presentation of disease, limited data collection, poor provision of community access to early detection, diagnosis and treatment, and low prioritisation of breast cancer control programmes within the health-care system.
Worldwide, cancer incidence and mortality are expected to increase by 50% between 2002 and 2020. These global cancer rates will be rising the most in developing countries. By the year 2020, 70% of the 16 million cancer cases that year are expected to be in LMCs. As the most common cause of cancer deaths among women around the world, breast cancer outcomes need to be addressed proactively as a cornerstone for staving off the predicable global cancer epidemic.
To improve mortality rates in resource-poor countries, the Breast Health Global Initiative (BHGI) has produced resource-sensitive, evidence-based clinical guidelines for the early detection, diagnosis and treatment of breast cancer in LMCs. This Review by Benjamin O. Anderson, Fred Hutchinson Cancer Research Center and University of Washington, Seattle, USA, and colleagues in cancer centres worldwide, summarises the consensus findings of the fourth BHGI Global Summit on International Breast Health held in Chicago, IL, USA, on June 9-11, 2010, which brought together more than 150 experts from 43 countries.
The panel discussions and delegate reports were pooled together to form this consensus analysis. In LMCs, a lack of awareness about cancer or an inability to seek basic healthcare means that patients commonly present with late-stage disease. In India, for instance, 50%-70% have locally advanced or metastatic disease at diagnosis. "While four out of five breast cancer cases are cured in the USA and Western Europe, breast cancer is likely a death sentence in most Sub-Saharan African countries," say the authors.
Doctors in developing countries are often not well trained in cancer diagnosis, and treatment may either be non-existent or too costly for patients to afford (out-of-pocket payments are highest in the poorest countries in the world). Healthcare professionals in LMCs may not have sufficient training in surgical techniques such as mastectomy, which means that malignant tissue is left in the body. After surgery, patients fail to receive the critical drug therapies that can prevent metastatic disease from becoming established. These factors combined are the reason that breast cancer mortality rates are so high in LMCs.
Public awareness about breast cancer is very low in most LMCs. Women are often not aware of self-examination techniques, nor do healthcare professionals educate them about these issues. In the poorest settings, the doctors themselves may have never seen an early breast cancer case, and therefore may not recognize the need to initiate diagnosis and treatment at these early, potentially curable stages.
The authors say: "LMCs' health-care systems face several challenges including national or regional data collection, programme infrastructure and capacity (including appropriate equipment and drug acquisitions and professional training and accreditation), the need for qualitative and quantitative research to support decision making, and strategies to improve patient access and compliance and public, health-care professional, and policy-maker awareness that breast cancer is a cost-effective, treatable disease."
They conclude: "Differences exist both between and within countries, which suggest a need to look more closely at subpopulations within each country or region to understand better how to optimise breast cancer care for underserved women worldwide."




Source: Lancet Oncology