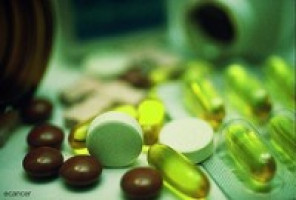 Olaparib, a medicine that has previously been used at a later stage in the treatment of advanced ovarian cancer, has now been approved by NICE as a first-line maintenance treatment.
This positive recommendation affects adults with BRCA mutation-positive, advanced high-grade epithelial ovarian, fallopian tube or primary peritoneal cancer who have responded to one round of platinum-based chemotherapy, rather than after three rounds - which is the current standard of care.
Currently around 700 women with advanced ovarian cancer are expected to benefit from this new treatment option - which will be available on the NHS via the Cancer Drugs Fund.
Meindert Boysen, director of the NICE Centre for Health Technology Evaluation, said: "The availability of olaparib tablets as maintenance therapy is an important development in the management of BRCA mutation-positive advanced ovarian cancer. Olaparib is already used for ovarian cancer but is expected to have the greatest benefit when used early, and is considered to have the potential to cure the disease in some people if given before the first recurrence.
"We are pleased that the company has agreed a commercial arrangement for olaparib that will allow it to be made available immediately to people who currently have an unmet need for maintenance treatment," added Boysen.
Olaparib is a type of drug called a PARP inhibitor and works by preventing the PARP protein in cancer cells from repairing damaged DNA, causing the cancer cells to die.
As a maintenance therapy, it is used to prevent the cancer returning after primary treatment.
It is taken as a tablet twice-a-day.
The use of the Cancer Drugs Fund is needed while further data is collected from an ongoing clinical trial which so far estimates that olaparib delays disease progression by around 3 years compared with placebo.
However, it is not known whether people taking olaparib live longer because those on the trial have not been followed-up for long enough.
John Stewart, NHS Director of Specialised Commissioning, explained: "Olaparib has the potential to make a huge impact on the treatment of advanced ovarian cancer, giving patients a better chance of survival, and NHS England has worked closely with AstraZeneca and NICE to reach a deal that has clear benefits for those patients who would benefit, as well as industry and taxpayers."
"Providing the latest cutting-edge treatments for patients through innovative drug deals is just one way the NHS Long Term Plan will transform cancer care across the country, building on the thousands more lives already being saved thanks to improving treatment," stated Stewart.
Responding to the NICE decision, Professor Paul Workman, Chief Executive of The Institute of Cancer Research, London, said: "It's fantastic news that olaparib will now be available on the NHS for women who have advanced ovarian cancer and inherited BRCA mutations much earlier in the course of treatment when they are most likely to benefit."
"It's essential that the NHS should now test all women with the most common form of ovarian cancer for BRCA gene mutations at diagnosis, to ensure as many as possible can benefit from this new treatment. Olaparib is a pioneering type of cancer drug called a PARP inhibitor – the first ever cancer drug to target an inherited genetic fault. It was scientists at the ICR who first discovered how to target the drug at cancer's genetic weaknesses. I'm particularly pleased that NICE has come to this decision so quickly, following the European Medicines Agency's approval of the earlier use of olaparib for this group of women just last month," added Prof Workman.
Sources: NICE and Institute of Cancer Research