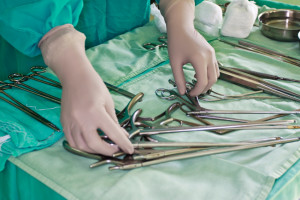 By Monique Biryiana
A study published in ecancermedicalscience has described the use of virtual reality (VR) software for the training of surgical oncologists.
It has been reported that VR simulation may reduce the time and costs required to equip surgeons with the adequate knowledge and skills to attain surgical proficiency.
The main limitations to achieve surgical competency are the costs and time involved to provide full training to these surgeons; especially in low- and middle-income (LMI) countries where there is a deficit of skilled surgical oncologists.
In fact, less than 5 percent of low-income countries and 20 percent of middle-income countries have access to basic cancer surgery (Parham et al., 2019).
This is exacerbated in areas of Sub-Saharan Africa, as one in five of the world's annual cervical cancer deaths occur here (Bray et al., 2012); which places an inconceivable burden upon both women and skilled gynaecologists in this region.
In efforts to alleviate this, Zambia established the "cervical cancer prevention program" (CCPZZ) and has successfully screened over 600,000 women across 10 provinces (Parham et al., 2015).
As a result, these screenings have successfully detected early-stage cervical cancer in more than 50 percent of women; most of whom may be cured through immediate surgery (Parham et al., 2019).
However, with insufficient surgical expertise, these women are forced to wait four to six months for surgery – which can increase the risk for tumour progression and poorer survival of patients (Nanthamongkolkul and Hanprasertpog, 2015).
Nonetheless, previous studies have demonstrated the use of virtual reality surgical simulation (VRSS) accelerated the acquisition of surgical skills (Parham et al., 2019) and reduced the time to achieve competency (Grantcharov et al., 2004; Larsen et al., 2009).
Therefore, this study aimed to construct a novel and cost-effective approach for trainee oncologists to cultivate their surgical abilities using accessible VR technology.
Researchers successfully developed a low-cost system that utilised commercially available technology (an Occulus Rift headset and a portable desktop) to create an immersive and realistic VR experience for trainee surgeons to perform radical abdominal hysterectomies (RAH) (Parham et al., 2019).
The VRSS was set within an operating theatre in the University Teaching Hospital in Lusaka, Zambia; where trainee surgeons were instructed to clamp, cut, suture and manipulate the corresponding vasculature according to a typical RAH procedure (Parham et al., 2019).
Users were also informed of their progress via audio feedback throughout and demonstrations of the simulation can be seen here.
As surgical training using VR methods await thorough clinical testing (Parham et al., 2019), the researchers detailed a prospective clinical study to understand the impact of VRSS in surgical skill enhancement within this setting.
This design would involve the random allocation of trainees to participate in either VRSS training or traditional surgical training; where surgical performance in both conditions would be examined and evaluated by oncology experts to determine proficiency (Parham et al., 2019).
This technology has the potential to transform the landscape of surgical oncology and address the critical need for accessible and timely cancer surgery for patients in LMICs, such as Zambia – due to its low-cost, clinical applicability and scalability (Parham et al., 2019).
With the rapid evolvement of VR technology, including improved graphics, eye-tracking controls and increased affordability; the authors envision the integration of these tools within cancer training centres across Zambia (Parham et al., 2019).
These centres could provide the opportunity to equip oncologists with the necessary skills to perform gynaecological and pelvic procedures to achieve better patient outcomes and address the disparity of cervical cancer care currently observed in the region (Parham et al., 2019).
Although this study has revealed the benefits this revolutionary technology could provide to both healthcare professionals and patients in resource-limited settings, it must be carefully designed to ensure the educational objectives are achieved (Parham et al., 2019).
Furthermore, the authors believe the next step to aid the development of this technology is to carry out a major multi-country clinical trial. This would enable researchers to assess and understand the effectiveness of VR tools for trainees, as well as the viability of implementing these tools into successful training programs (Parham et al., 2019).
References:
Bray, F., Jemal, A., Grey, N., Ferlay, J. and Forman, D. (2012). Global cancer transitions according to the Human Development Index (2008–2030): a population-based study. The Lancet Oncology, 13(8), pp.790-801.
Grantcharov, T., Kristiansen, V., Bendix, J., Bardram, L., Rosenberg, J. and Funch-Jensen, P. (2004). Randomized clinical trial of virtual reality simulation for laparoscopic skills training. British Journal of Surgery, 91(2), pp.146-150.
Larsen, C., Soerensen, J., Grantcharov, T., Dalsgaard, T., Schouenborg, L., Ottosen, C., Schroeder, T. and Ottesen, B. (2009). Effect of virtual reality training on laparoscopic surgery: randomised controlled trial. BMJ, 338(may14 2), pp.b1802-b1802.
Nanthamongkolkul, K. and Hanprasertpong, J. (2015). Longer waiting times for early stage cervical cancer patients undergoing radical hysterectomy are associated with diminished long-term overall survival. Journal of Gynecologic Oncology, 26(4), p.262.
Parham, G., Mwanahamuntu, M., Kapambwe, S., Muwonge, R., Bateman, A., Blevins, M., Chibwesha, C., Pfaendler, K., Mudenda, V., Shibemba, A., Chisele, S., Mkumba, G., Vwalika, B., Hicks, M., Vermund, S., Chi, B., Stringer, J., Sankaranarayanan, R. and Sahasrabuddhe, V. (2015). Population-Level Scale-Up of Cervical Cancer Prevention Services in a Low-Resource Setting: Development, Implementation, and Evaluation of the Cervical Cancer Prevention Program in Zambia. PLOS ONE, 10(4), p.e0122169.
Parham, G., Bing, E., Cuevas, A., Fisher, B., Skinner, J., Mwanahamuntu, M. and Sullivan, R. (2019). Creating a low-cost virtual reality surgical simulation to increase surgical oncology capacity and capability. ecancermedicalscience, 13(910).