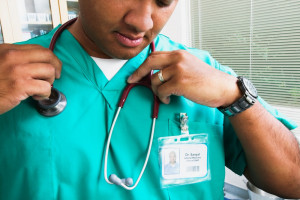 Tivozanib has been included in the new European Society of Medical Oncology (ESMO) clinical practice guidelines for renal cell carcinoma (RCC).
These updated guidelines have been published in the journal Annals of Oncology.
These guidelines include tivozanib as a first-line treatment recommendation for advanced RCC (aRCC) clear cell histology patients.
Tivozanib has also been positioned as a treatment standard for good (or favourable) risk patients and a treatment option for intermediate risk patients.

Dr Bernard Escudier, Medical Oncologist and member of the Genitourinary Tumour Board of Gustave Roussy, France, commented: "This is excellent news for patients with metastatic RCC. Outcomes in this disease have greatly improved with the introduction of targeted therapies, meaning that patients are living for longer, although currently available therapies can be associated with burdensome toxicities. We are still in need of effective and well tolerated new treatments in metastatic RCC and thus, tivozanib is a welcomed addition. We also look forward to continuing our investigations of potential combination approaches with other therapeutic agents."

The inclusion of tivozanib in the new guidelines follows the grant of a European Commission (EC) licence in August 2017 for this oral, once-daily, potent selective vascular endothelial growth factor receptor tyrosine kinase inhibitors (VEGFR-TKI) as first-line treatment of adult patients with aRCC.

The authorisation within the European Union (EU) was based on evidence from the global, open-label, randomised, multi-centre Phase III trial TiVO-1, which showed that aRCC patients receiving tivozanib experienced improved progression-free survival and lower rates of certain adverse events compared to those receiving another VEGFR-TKI, sorafenib.

"I am pleased that the important European guidelines have been updated to include tivozanib as a recommendation for first-line treatment for aRCC," stated Lee Morley, Chief Executive Officer, EUSA Pharma. "With kidney cancer expected to be one of the fastest increasing cancers over the next ten years, we remain committed to ensuring the availability of tivozanib across the EU in line with the indication as a monotherapy in the first-line setting treatment of aRCC."

Kidney cancer is the 12th most commonly occurring cancer worldwide – the 9th in men and the 14th in women, with over 400,000 new cases in 2018.
RCC is the most common form of kidney cancer, accounting for approximately 80 percent of cases.
About Tivozanib
Tivozanib is an oral, once-daily, potent selective vascular endothelial growth factor receptor tyrosine kinase inhibitors (VEGFR-TKI).
It is indicated for the first-line treatment of adult patients with advanced renal cell carcinoma (aRCC) and for adult patients who are VEGFR and mTOR pathway inhibitor-naïve following disease progression after one prior treatment with cytokine therapy for aRCC.

An over-expression of VEGF protein, and a resulting increase in tumour blood supply (angiogenesis) is a common feature of RCC.
VEGFR-TKIs reduce the supply of blood to the tumour and are the recommended first-line treatment for advanced RCC in Europe, however, patients often experience significant side effects including fatigue, diarrhoea, and hand-foot syndrome.
About the TiVO-1 trial

In the global Phase III trial (TiVO-1) of over 500 patients with advanced RCC, tivozanib demonstrated a significant progression-free survival (PFS) benefit versus sorafenib (11.9 vs. 9.1 months in the overall patient population [HR, 0.797; 95% CI, 0.639 to 0.993; P =.042], and 12.7 vs. 9.1 months in treatment-naïve patients [HR, 0.756; 95% CI, 0.580 to 0.985; P =.037]).
There was also an improved side-effect profile versus sorafenib, with significantly fewer patients on tivozanib (14 percent versus 43 percent) requiring a dose reduction due to AEs; and less than 5 percent of patients experiencing severe side effects (grade 3 and 4), such as diarrhoea, asthenia (physical weakness) and hand-foot syndrome.
Hypertension (44 percent) and dysphonia (21 percent) were the most commonly reported AEs on tivozanib.
Source: EUSA Pharma