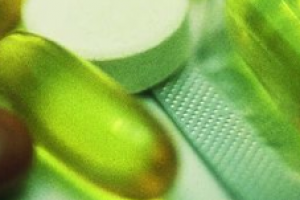 The Committee for Medicinal Products for Human Use (CHMP) of the European Medicines Agency have announced their positive opinion in the recommendation of the use of olaparib tablets as monotherapy for the treatment of adult patients with germline BRCA1/2-mutations, who have human epidermal growth factor receptor 2 (HER2)-negative locally advanced or metastatic breast cancer.
Patients should have previously been treated with an anthracycline and a taxane in the (neo)adjuvant or metastatic setting unless patients were not suitable for these treatments.
Patients with hormone receptor (HR)-positive breast cancer should also have progressed on or after prior endocrine therapy, or be considered unsuitable for endocrine therapy.

Dave Fredrickson, Executive Vice President, Oncology, said: "Despite progress in treating patients with advanced breast cancer, there remains a significant unmet need for new treatment options. If approved, olaparib will provide these patients with both a targeted and oral chemotherapy-free option. We now have evidence supporting the potential use of olaparib in patients with BRCA-mutated breast, ovarian and pancreatic cancers, which demonstrates our ongoing commitment to improving patient outcomes in difficult-to-treat cancers."

Roy Baynes, Senior Vice President and Head of Global Clinical Development, Chief Medical Officer, Merck Research Laboratories, said: "The positive opinion from CHMP for Lynparza in this patient population is an important milestone. This decision brings us one step closer to offering a new treatment option to patients with locally advanced or metastatic breast cancer and further underscores the critical need to identify patients' BRCA status, in addition to hormone receptor and HER2 expression status, as part of the management of this disease."

The positive opinion is based on data from the randomised, open-label, Phase III OlympiAD trial, which tested olaparib against the physician's choice of chemotherapy.
Olaparib is currently approved in over 60 countries including those in the EU for the maintenance treatment of platinum-sensitive relapsed ovarian cancer regardless of BRCA status.
It is approved in the US for first-line maintenance therapy in BRCAm advanced ovarian cancer following response to platinum-based chemotherapy.
It is also approved in several countries, including the US and Japan, for germline BRCAm HER2-negative metastatic breast cancer previously treated with chemotherapy; regulatory reviews are underway in other jurisdictions.

About OlympiAD
OlympiAD was a global, randomised, open-label, multi-centre Phase III trial of 302 patients, assessing the efficacy and safety of olaparib tablets (300mg twice daily) compared to the physician's choice of chemotherapy (capecitabine, eribulin or vinorelbine).
205 patients were randomised to receive olaparib and 97 patients were randomised to receive chemotherapy.

Patients in the OlympiAD trial had germline BRCA1 and/or BRCA2-mutated, HER2-negative (HR-positive or triple negative) breast cancer and received olaparib for treatment in the metastatic setting.
Prior to enrolment, all patients were treated with an anthracycline (unless it was contraindicated) and a taxane chemotherapy in the neoadjuvant, adjuvant or metastatic setting.
Patients with metastatic breast cancer (71 percent of patients) had received no more than two previous chemotherapy treatments for metastatic disease.
Patients with HR-positive breast cancer had received at least one endocrine (hormonal) therapy (in the adjuvant or metastatic setting) and had disease progression during therapy, unless they had disease for which endocrine therapy was considered inappropriate.
Previous treatment with platinum chemotherapy in the neoadjuvant, adjuvant or metastatic setting was allowed (28 percent of patients).

In the trial, olaparib provided patients with a significant median progression-free survival improvement of 2.8 months (7.0 months for olaparib vs. 4.2 months for chemotherapy).
Patients taking olaparib experienced an objective response rate (ORR) of 59.9 percent, which was double the response rate for those in the chemotherapy arm (ORR 29 percent).
Data from the OlympiAD trial can be found in the New England Journal of Medicine.

The most common adverse reactions (≥20 percent) in the OlympiAD trial of patients who received olaparib were nausea (58 percent), anaemia (40 percent), fatigue (including asthenia) (37 percent), vomiting (30 percent), neutropenia (27 percent), respiratory tract infection (27 percent), leukopenia (25 percent), diarrhoea (21 percent), and headache (20 percent).
The percentage of patients who discontinued treatment in the olaparib arm was 5 percent vs. 8 percent in the chemotherapy arm.

Advanced breast cancer
Advanced/metastatic breast cancer refers to Stage III and IV breast cancer.
Stage III disease may also be referred to as locally-advanced breast cancer, while metastatic disease is the most advanced stage of breast cancer (Stage IV) and occurs when cancer cells have spread beyond the initial tumour site to other organs of the body outside the breast.
Since there is no cure for the disease, the goal of current treatment is to delay disease worsening or death.

In 2018, there were an estimated 2.1 million new cases of breast cancer worldwide – one in four cancer cases among women (24.2 percent).
In Europe the estimated 5-year prevalence of breast cancer in 2018 was 2,054,887 cases.
Approximately 30 percent of women who are diagnosed with early breast cancer will go on to develop advanced disease.
BRCA mutations
Breast cancer susceptibility gene 1/2 (BRCA1 and BRCA2) are human genes that produce proteins responsible for repairing damaged DNA and play an important role maintaining the genetic stability of cells.
When either of these genes is mutated, or altered, such that its protein product either is not made or does not function correctly, DNA damage may not be repaired properly and cells become unstable.
As a result, cells are more likely to develop additional genetic alterations that can lead to cancer.

Olaparib
Olaparib is a first-in-class PARP inhibitor and the first targeted treatment to block DNA damage response in cells/tumours harbouring a deficiency in homologous recombination repair (HRR), such as mutations in BRCA1 and/or BRCA2.
Inhibition of PARP with olaparib leads to the trapping of PARP bound to DNA single-strand breaks, stalling of replication forks, their collapse and the generation of DNA double-strand breaks and cancer cell death.
Olaparib is being tested in a range of tumour types with defects and dependencies in the DDR.

The drug has also been approved for multiple indications in advanced ovarian cancer and metastatic breast cancer and has been used in over 20,000 patients worldwide.
It was also announced that olaparib became the first PARP inhibitor to demonstrate benefit in germline BRCAm metastatic pancreatic cancer in the Phase III POLO trial.
Future work will focus on understanding how olaparib may affect multiple PARP-dependent tumours as a monotherapy and in combination across multiple cancer types.
Source: AstraZeneca