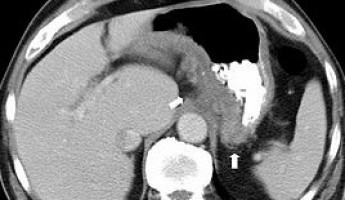 The global Phase III trial TAGS, evaluating trifluridine/tipiracil in patients with metastatic gastric cancer (mGC) has seen the announcement of safety and efficacy data in the gastrectomy patient subgroup.
The data is consistent with the overall study results published in The Lancet Oncology.
These data were highlighted in an oral presentation at the ASCO 2019 Gastrointestinal Cancers Symposium (ASCO-GI).
In TAGS, 221 (44%) of the 507 randomised mGC patients had undergone prior gastrectomy (147 trifluridine/tipiracil, 74 placebo), which is reflective of the real-world patient population diagnosed with mGC.
The results confirmed that trifluridine/tipiracil prolonged survival versus placebo regardless of prior gastrectomy.
The overall results of TAGS demonstrated that patients treated with oral trifluridine/tipiracil showed a clinically meaningful and statistically significant improvement in overall survival (OS) compared with placebo and a 31 percent risk reduction of death (HR 0.69 one sided p=0.00029), which translated into a prolonged median survival of 2.1 months (5.7 months for trifluridine/tipiracil versus 3.6 months for placebo).
Additional data investigating trifluridine/tipiracil in metastatic colorectal cancer (mCRC) patients to be presented at ASCO-GI:
Health-related quality of life in the early-access phase IIIb study of trifluridine/tipiracil in pretreated metastatic colorectal cancer (mCRC): Results from PRECONNECT study

Validation of cost-effectiveness of trifluridine/tipiracil versus best supportive care and regorafenib for previously treated metastatic colorectal cancer in the UK using phase IIIb PRECONNECT early access clinical trial data in the real world setting

QoL from TASCO1: Health related quality of life of trifluridine/tipiracil-bevacizumab and capecitabine-bevacizumab as first-line treatments in metastatic colorectal cancer patients not eligible for intensive chemotherapy: results from the TASCO1 phase II study

Trifluridine/tipiracil and regorafenib in patients with metastatic colorectal cancer (mCRC): A single institution retrospective study

Exploratory analysis of the effect of trifluridine/tipiracil in patients treated in RECOURSE by prognostic factors
Trifluridine/tipiracil is indicated in European Union for the treatment of adult patients with mCRC who have been previously treated with, or are not considered candidates for, available therapies including fluoropyrimidine-, oxaliplatin- and irinotecan- based chemotherapies, anti-VEGF agents, and anti- EGFR agents.
Applications for an additional indication in mGC for trifluridine/tipiracil are currently under review by health authorities in Japan, the United States and the European Union.
Source: Servier