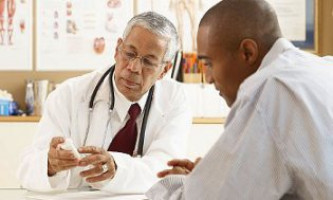 There is growing evidence that drugs approved for the treatment of breast cancer in women are also effective and well tolerated in men, according to the largest real-life study yet to investigate treatment and outcomes in men with breast cancer and two further studies reported at ESMO 2018 Congress.
Approximately one in every 100 cases of breast cancer (1%) occurs in men.
However, there have been few prospective studies in men, and clinical trials of breast cancer treatments have often excluded men so treatment recommendations are largely extrapolated from the results of clinical trials in women.
To learn more about the treatment of breast cancer in men researchers analysed clinical data collected by the Epidemiological Strategy and Medical Economics Metastatic Breast Cancer (ESME MBC) platform between January 2008 and December 2014.
This national database collects real-life data from 18 French Comprehensive Cancer Centres for all patients newly diagnosed with metastatic breast cancer starting at least one treatment.
Researchers retrieved the data for men with metastatic breast cancer included in the database and compared their treatment and outcome with those in women.
They found 149 men from the total of 16,701 patients (0.89%).
The men were slightly older than the women (mean age 68.1 years vs 60.6 years, p<0.0001).
Just over three-quarters of the men (105/149; 78.4%) had hormone receptor positive (HR )/ human epidermal growth factor receptor 2 (HER2) negative breast cancer, which was a slightly higher proportion than in women (65.6%, p=0.0019).
Results showed men received similar treatments to women with metastatic breast cancer.
Just under half of those with HR /HER2-negative breast cancer (45/105, 42.9%) received frontline hormonal therapy: tamoxifen (20/45), aromatase inhibitor luteinizing hormone releasing hormone (LHRH) analogues (18/45) or others (7/45).
Their median progression-free survival was 9.8 months, which was similar to that seen in a matched group of women (13.0 months, p=0.8) with the same age, breast cancer histology and grade, location of metastasis and adjuvant treatment.
One in four men with HR /HER2- breast cancer (29/105, 27.6%) were treated with front-line chemotherapy.
Their median progression-free survival was also similar to a matched group of women receiving chemotherapy (6.9 months vs 6.3 months, hazard ratio 1.24, 95% confidence interval 0.69-2.23).
Overall survival for the whole population of men included in the database was also similar to that for women (41.8 months vs 34.9 months, p=0.745).
"We have reported on one of the biggest series of men with metastatic disease, with comprehensive data on their management and outcome with different types of treatment," said study author Jean-Sébastien Frénel, from the Institut de Cancerologie de l'Ouest, Nantes, France.
"We found that most of the men with HR /HER2- metastatic disease had received frontline chemotherapy and around 40% had received hormonal therapy. Most of the patients receiving hormonal therapy were treated with tamoxifen and the remainder received aromatase inhibitors. But few patients received aromatase inhibitors plus LHRH analogues despite some guidelines recommending that they should be given in combination." he added.
Frénel reported: "The progression-free survival provided by chemotherapy or hormonal therapy was similar in men as in women."
In terms of clinical implications, he suggested: "Hormonal therapy should be given to men with HR /HER2- metastatic breast cancer in the absence of visceral crisis."
He added that oncologists should be aware that aromatase inhibitors should not be given without LHRH analogues.
The study is continuing and will next assess the prevalence of BRCA mutation in the patient population.
Commenting on the findings for ESMO, Agnes Jager, medical oncologist and associate professor at Erasmus Medical University Cancer Institute, Rotterdam, The Netherlands said: "A recent study looked at tumour characteristics and outcome in a large cohort of men with primary breast cancer but such extensive data on advanced breast cancer in men was missing until now."
She added: "This new study shows the prognosis of men and women is similar, which is of great value as this justifies our current clinical practice. We currently treat men with breast cancer in a similar way to women, which is now supported by these data."
Jager noted that although the largest study of its kind, the number of men with breast cancer was still small and data were lacking on the extent of advanced disease, BRAC mutation status and type of chemotherapy.
However, she said: "More detailed information and longer-term follow-up will indicate whether there are characteristics or prognostic factors that are specific for men, which will allow us to change practice in the future."
Source: ESMO