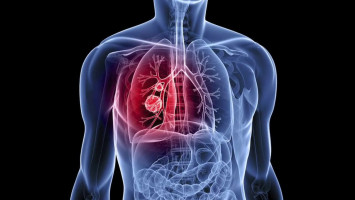 A large, randomised phase III trial shows that the immunotherapy pembrolizumab is a more effective initial treatment than chemotherapy (the current standard of care) for the majority of patients with the most common type of lung cancer.
People with advanced non-small-cell lung cancer (NSCLC) with a PD-L1 expression of 1% or more who were first treated with immunotherapy pembrolizumab lived a median of 4-8 months longer than those who received chemotherapy.
In addition, severe side effects occurred in fewer patients receiving pembrolizumab than chemotherapy (18% vs. 41%).
According to the authors, this study (KEYNOTE-042) is the largest clinical trial of pembrolizumab as a standalone therapy.
The findings will be presented in ASCO's Plenary Session, which features four studies deemed to have the greatest potential impact on patient care, out of the more than 5,800 abstracts featured as part of the 2018 American Society of Clinical Oncology (ASCO) Annual Meeting.
"A large number of patients with lung cancer now have a new treatment option with better efficacy and fewer side effects than standard chemotherapy," said lead study author Gilberto Lopes, MD, MBA, a medical oncologist at the Sylvester Comprehensive Cancer Center, University of Miami Health System in Florida.
"Our study shows that pembrolizumab provides more benefit than chemotherapy for two-thirds of all people with the most common type of lung cancer."
Based on findings from a previous, smaller clinical trial (KEYNOTE-024), the U.S. Food and Drug Administration (FDA) approved pembrolizumab for initial treatment of NSCLC with high PD-L1 expression (score of at least 50%), which account for about one-third of these cancers.
Pembrolizumab is currently the only approved immunotherapy for initial treatment of lung cancer.
It is approved for use as a standalone treatment and in combination with chemotherapy.
PD-L1 is a biomarker commonly used to predict response to immune checkpoint inhibitors, including pembrolizumab.
Generally, tumours with more PD-L1 (high expression) respond better to these treatments, but in some studies, these immunotherapies were effective even against tumours with little or no detectable PD-L1.
In prior trials of second-line therapy for NSCLC, pembrolizumab was effective in treating tumours with PD-L1 expression of at least 1%.
About the Study
Researchers randomly assigned 1,274 people with locally advanced or metastatic NSCLC to receive chemotherapy (paclitaxel plus carboplatin or pemetrexed plus carboplatin) or pembrolizumab.
Both squamous and non-squamous cancers were included, but not cancers with genetic changes that can be treated with targeted therapies (EGFR and ALK inhibitors).
For the analysis, researchers explored treatment benefits in three patient groups according to tumour PD-L1 expression score: at least 50% (599 patients), at least 20% (818 patients), and at least 1% (1,274 patients).
Equal numbers of patients in each PD-L1 expression group received pembrolizumab and chemotherapy.
Key Findings
The median follow-up time was 12.8 months.
Compared to those receiving standard chemotherapy, patients who received pembrolizumab had a longer median overall survival, regardless of PD-L1 expression in the tumour.
The benefit of pembrolizumab was greater when the level of PD-L1 expression was higher:
Next Steps
More research is needed to define patient groups who benefit from pembrolizumab.
The three broad groupings by PD- L1 expression in the current analysis do not allow researchers to predict the benefit from pembrolizumab for patients with a specific PD-L1 expression level.
Additionally, it is not yet clear whether pembrolizumab combined with chemotherapy is better than pembrolizumab alone in patients who express PD-L1, as there have not been head-to-head comparison trials of the two approaches.
Ongoing research is also exploring use of pembrolizumab after surgery (adjuvant) and combinations of immunotherapy with bevacizumab-containing combination regimens as part of initial therapy for NSCLC.
Source: ASCO 2018