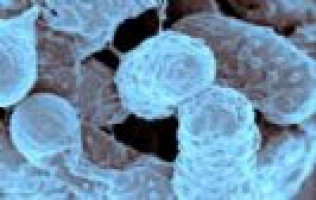 An antibody that is present in the blood of women previously infected with the sexually transmitted disease chlamydia is associated with a doubling in ovarian cancer risk, according to data presented during a media preview for the AACR Annual Meeting 2018, April 14-18, in Chicago, Illinois.
"Ovarian cancer is a relatively rare cancer, but women who get it face poor survival rates," said the study's lead author, Britton Trabert, PhD, MS, Earl Stadtman Investigator in the Division of Cancer Epidemiology and Genetics at the National Cancer Institute (NCI). "We need to understand more about what causes ovarian cancer so that we can improve screening and treatment, and ultimately, improve survival rates."
Trabert explained that some previous research has shown that pelvic inflammatory disease, which is often caused by sexually transmitted infection, has been associated with ovarian cancer. However, other studies have not found any link between sexually transmitted infections and ovarian cancer.>
Chlamydia is the most commonly reported sexually transmitted bacterial infection in the United States, so Trabert and colleagues sought to examine possible connections between chlamydia and ovarian cancer.
The researchers examined data from two different studies: a Polish study of 278 women diagnosed with ovarian cancer between 2000 and 2003, and 278 matched controls; and the NCI-sponsored Prostate, Lung, Colorectal, and Ovarian Cancer Screening Trial, a nested case-control study with blood draw prior to diagnosis which included 160 women who developed ovarian cancer during follow-up, and 159 matched controls.
Using logistic regression, they calculated odds ratios for the association between chlamydia antibodies and ovarian cancer risk.
In both study populations, women who had antibodies against pgp3, a protein considered to be a highly accurate marker of active or prior chlamydia infection, were about twice as likely to have been also diagnosed with ovarian cancer.
Trabert pointed out that the studies also evaluated antibodies against several other infectious agents, including human papillomavirus, herpes simplex virus, hepatitis B, and hepatitis C, and found no association with increased ovarian cancer risk.
"The fact that there were no associations with antibodies against other infectious agents really supports the specificity of the association of chlamydia infection with ovarian cancer," she said.
Trabert said that the next step is to confirm the findings of this study in larger populations, and to examine whether chlamydia infection is more specifically tied to certain subtypes of ovarian cancer.
For example, she said, previous research has shown an association between inflammation, which can be caused by chlamydia infection, and risk for some subtypes of ovarian cancer.
Trabert said the study's biggest limitation was that the multiplex platform was not able to reliably test for antibodies to Neisseria gonorrhoeae, another known cause of pelvic inflammatory disease.
Source: AACR