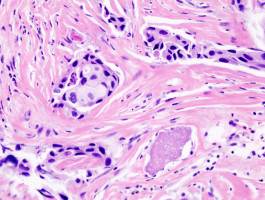 The European Commission (EC) has approved a new indication for fulvestrant in combination with a CDK4/6 inhibitor, palbociclib, for the treatment of hormone receptor-positive (HR ), human epidermal growth factor receptor 2 negative (HER2-) locally advanced or metastatic breast cancer in women who have received prior endocrine therapy.
This follows last years EC approval of palbociclib, and subsequent rejection by NICE.
The combination with fulvestrant received a positive opinion from the Committee for Medicinal Products for Human Use last month, and was approved by the FDA last spring.
Fulvestrant alone has also received FDA approval for HR/HER2- breast cancer.
The EU approval is based on data from the Phase III PALOMA-3 trial, which showed a statistically significant increase in investigator-assessed median PFS of 4.9 months (9.5 months vs 4.6 months) in patients who received fulvestrant 500 mg and palbociclib 125 mg over fulvestrant and placebo (HR: 0·46; 95% CI: 0·36–0·59; p<0·0001).
PALOMA-3 is a Phase III international, randomised, double-blind, parallel group, multicentre study, sponsored by Pfizer Inc., of fulvestrant plus palbociclib vs fulvestrant plus placebo conducted in women with HR /HER2- advanced or metastatic breast cancer, regardless of their menopausal status, whose disease progressed after endocrine therapy.
The study evaluated 521 pre/postmenopausal women who were randomised 2:1 to fulvestrant plus palbociclib or fulvestrant plus placebo.
Women who were either premenopausal (meaning they had not reached menopause), or perimenopausal (meaning that their bodies were making the natural transition toward menopause), were therapeutically induced to become postmenopausal and represented 20.7% of the study population.
David Fredrickson, Executive Vice President, Head of the Oncology Business Unit at AstraZeneca, said "For many years fulvestrant has been used as an effective monotherapy treatment for women with hormone receptor positive breast cancer. The first EU approval of fulvestrant for use in combination with a CDK4/6 inhibitor reinforces the value of fulvestrant as an endocrine agent of choice for advanced breast cancer patients, building on the EU first-line monotherapy approval earlier this year with FALCON."
Source: Burston-Marsteller