ecancer

medicalscience
ecancer

medicalscience
is a peer-reviewed, open access cancer journal. We consider articles on all aspects of research relating to cancer, including molecular biology, pathophysiology, epidemiology, clinical reports, controlled trials and cancer policy.
Treating the patient, not the disease: in memory of Umberto Veronesi
Guest Editor: Gordon McVie
This special issue gathers together papers on the past and future of breast cancer research and treatment, as well as developments in psycho-oncology and patient empowerment, honouring the enormous contribution Professor Umberto Veronesi made over a lifetime of pioneering work.
We would like to thank the Umberto Veronesi Foundation for their kind sponsorship of this special issue.
Read the full editorial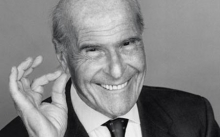 Watch Managing Editor Prof Gordon McVie discuss the various articles in the special issue.
Special Issue Articles