Editorial Board
Dr Gabriella Pravettoni
University of Milan and European Institute of Oncology, Milan, Italy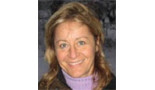 Gabriella Pravettoni is Full Professor of General Psychology and Director of the Department of Oncology and Haemato-oncology at the University of Milan.
She is Director of the Psychoncology Division and Director of the No Smoking Center at the European Institute of Oncology, Milan.
She is Coordinator of Psychology training and development – LILT Nazionale and Coordinator of Doctorate FOLSATEC (Foundations of the Life Sciences and their Ethical Consequences) at SEMM (European School of Molecular Medicine), Milan.
Professor Pravettoni is a member of various prestigious academic associations. Her main research interests focus on medical humanities and base functions of the individual, in particular in decision-making studies, medical decision-making, error prevention and the cognitive processes underlying doctor-patient interaction.